FACIALS
We will determine the type of facial you need once you come in for your appointment.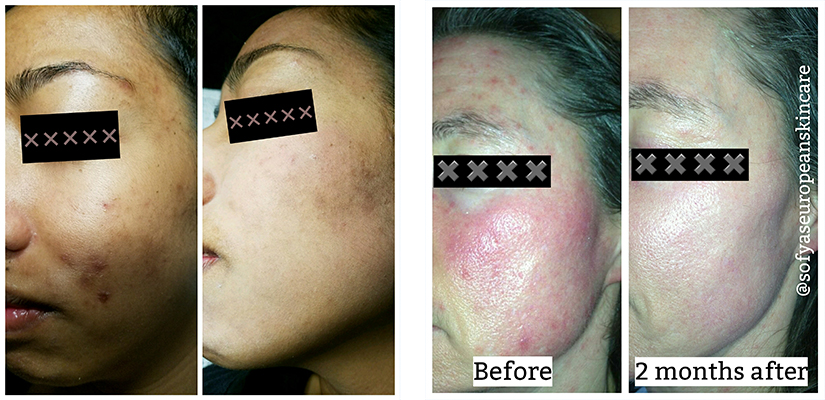 First Time Client – Customized Facial
$225
Every new facial client will start their skin journey with a fully customized facial. With an included in depth consultation of your skin history to find the root cause of any skin concern.
DiamondTome™ Microdermbrasion Facial (Crystal Free)
60-minutes – $159
Neck/Chest – +$59 each
DiamondTome skin resurfacing uses real diamonds to remove the outermost layer of the skin. It is a crystal-free, painless, safe, clean, precise and effective treatment. It helps reduce fine lines, evens skin tone, shrinks pores, brightens and heals acne skin.
Acne Facial
75-minutes – $159
Our Acne Facial is focused on the primary causes of severe acne, including inflamation, bacteria, and oil production. We utilize a unique combination of acne treatments, which include exfoliating enzymes and probiotics, as an alternative to traditional methods. Acne Facials are great for individuals looking for an effective solution that will result in a noticeably clearer complexion.
Sofya's Customized Signature Facial
75-minutes – $169
This facial is great for just about anyone who wants to feel the lasting effects of a truly superior facial treatment. This facial consists of a three-layer enzymatic treatment designed to nourish, replenish, and rejuvenate skin cells while stimulating capillary flow within the skin. This is one of the most effective facial treatments for exfoliating, toning, and collagen stimulation, which dramatically lifts, tightens, and firms facial skin.
Back Facial
60-minutes – $149
A back facial will help to clean, tone, and exfoliate acne prone skin. This treatment helps people who have acne prone, naturally dry skin or who have damage due to the sun or wind.

LED Light Therapy
45-minutes – $89
Typically done within one to two weeks after a facial.
LED Light Therapy is a state-of-the-art skin care technology that diminishes the appearance of fine lines, wrinkles, and age spots. This therapy also helps treat acne and promotes collagen regeneration to leave your skin smoother, tighter, and more radiant.
Can Be Added To Any Facial:
Eye Firming Gold Mask – $29
Anti-Aging Collagen Face Mask – $39
Skin Resurfacing Peel – $39
Oxygen Healing Treatment – $89
It helps transport huge volumes of oxygen to skin tissues, activating the tissue-breathing process and triggering the formation of collagen and elastins. Great for all skin types.